How Our Totally Average Runner Broke the Sub-5 Minute Mile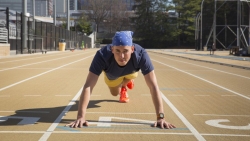 March 24, 2017
Maybe it was the endorphins, but I swear I heard 23,000 high school kids cheering.
By Charles Bethea, Outside
I was watching the 1500 meter Olympic final last summer at a bar, a few months before my 35th birthday, when I first wondered if a middle-distance runner lurked within. It was a strange thought. At six-foot-three and 175 pounds, I have the look of a runner but not the legs. In my early thirties, some half-assed training led to an unimpressive 22:39 5K, a 1:49 half-marathon, and an almost 4-hour marathon. Usually, it was a girlfriend who'd goaded me into racing. Now, in my mid-thirties, I was managing bad back pain.
Still, the Mile in­trigued me. It ­sounded short, simple. Train­ing would take much less time than distance racing (or so I assumed). And everyone runs a marathon these days, right?
I'd never run a timed Mile. Never even been on a track. My personal best in the 5K suggested that a 6:30 Mile was possible, but that time would be nothing to brag about.
Sub-6 seemed too pedestrian, 5:30 too random. Hicham El Guerrouj's 3:43 world record, set in 1999, was safely out of reach. I decided to go for a sub-5 minute Mile. More than 23,000 high-schoolers break 5 minutes annually. But at twice their age, I'd be OK with that company.
Continue reading at: www.outsideonline.com