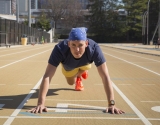 March 24, 2017
Maybe it was the endorphins, but I swear I heard 23,000 high school kids cheering.
By Charles Bethea, Outside
I was watching the 1500 meter Olympic final last summer at a bar, a few months before my 35th birthday, when I first wondered if a middle-distance runner lurked within. It was a...
Read More
comments