How Pro Runner Katie Mackey Got Out of Her Head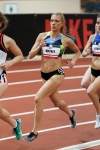 March 02, 2018
"Instead I was thinking, 'No. I'm going to make this team.' I had very positive, confident thoughts."
By Erin Strout, Outside magazine
She just made her first national team—after 13 failed attempts
When Katie Mackey, a professional runner for the Brooks Beasts, turned 30 last November, she had earned some impressive accolades: she's a U.S. road Mile champion and a Diamond League 3000 meter winner, and has multiple podium finishes on the national stage.

But her résumé lacked one of the most coveted achievements in Olympic sports: a spot on a national team. That changed a few weeks ago, when Mackey placed second in the 3000 meters at the USA Track & Field Indoor Championships in Albuquerque, New Mexico. The result qualified her for Team USA, to compete this month at the World Championships in Birmingham, United Kingdom. Mackey just nipped Emma Coburn, the reigning steeplechase world champion, at the finish to runner-up in 9:01.68, behind Shelby Houlihan, a 2016 Olympian in the 5000 meters.

Up until that point, at some of the biggest races of her career, Mackey always seemed to come up just shy of that breakthrough. Three separate times, she's been an alternate for national teams—possibly the most disappointing position to be in. After she set her sights on making the 2017 World Track and Field Championships in London last summer, she became injured with a sacral stress reaction before she ever had the chance to qualify.
She almost walked away from the sport entirely. But then Mackey decided to spend her forced break from running trying to figure out what was keeping her from breaking into the top tier. While her primary coach is her husband, Danny Mackey, she enlisted the outside consultation of Dan Pfaff, head coach at Altis, an elite athlete training center in Phoenix. "Talking to him is like talking to Yoda," she says. Pfaff has been a high-level coach for more than 40 years, leading multiple athletes to world records and Olympic medals. Here's what Mackey learned from him about changing her head game.
Continue reading at: outsideonline.com
EDITOR'S NOTE: Mackey finished 8th in the 3000m at the World Indoor Championships.