How Runner Sarah Brown Is Getting Ready for the Olympic Trials – While She's Pregnant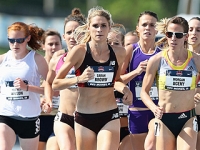 November 17, 2015
"As we went into the pregnancy, our biggest approach was that we don't know what each day is going to bring, but we know we don't have just one path to accomplishing our goal."
By Diana Pearl, People Magazine
2015 was supposed to be Sarah Brown's year.
The runner, who is gearing up to compete for a spot in the 2016 Olympics, was on a roll for the better part of 2015, her husband and coach, Darren Brown, tells PEOPLE. She was crushing it on her regular races and hitting personal records in the 800 meters and the 1500, her two races. For the first time, she was a favorite to make the Team USA for the World Championship in Beijing.
But instead of getting her kick in the last 200 meters like she always does, Sarah was faltering, and, on top of that, it was at two of the biggest races of her season. Sarah's lack of energy and longer-than-usual times were seemingly inexplicable – until she discovered she was pregnant. And due just three months before the Olympic Trials.
Continue reading at: people.com