How the Internet Helped Build Better Olympic Runners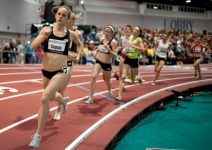 August 03, 2012
By Jason Paur, Wired
When Jenny Simpson won the 1500 meter race at the World Championships last year, even she looked surprised. She'd surged from the back of the pack with one lap left and became the first American woman since 1983 to take the "metric Mile" title. She'll be racing in London as the world champion and a top contender in an event in which no American woman has ever won a medal.
And she gives more than a little credit for this to the internet.
Simpson is one of an exceptional generation of elite American runners that includes the likes of Olympians Matt Tegenkamp, Alan Webb and Galen Rupp. All of them started their careers just as the internet became an inextricable part of daily life. Running-specific sites made the often solitary pursuit of running a communal endeavor, creating a national network of top runners from which they could draw guidance, friendship and inspiration. Before the late 1990s it was difficult for a high school student to know runners were doing in other cities, states and countries. The internet provided benchmarks to aspire to and ideas to draw from.
Continue reading at: wired.com