HS Sub-4 Miler Slagowski Reboots His College Career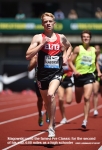 June 29, 2017
"It will definitely be like a fresh start going to Eastern Oregon and I'm not really putting any pressure on myself based off what I did in high school."
By Don Kopriva, Track & Field News
Michael Slagowski, who last year became the ninth school Miler to break 4:00, has rebooted his college career and will attend Eastern Oregon in the fall.
The native of Meridian, Idaho, started last fall at Penn State but was never really able to shake nagging injuries and left the Big 10 school early in the second semester. He parted on good terms with coach John Gondak but said coping with recovering from injury as well as the large size of classes made things difficult for him.
Since returning home, Slagowski has been rehabbing, working in a Boise running store and assessing his future.
He recently made the decision to enroll at Eastern Oregon, an NAIA school in La Grande. Under veteran coach Ben Welch, EOU has had notable success in track and XC, with 9 top-10 and 17 top-20 finishes in the NAIA XC Championships and 8 NAIA national titles in track.
"I like the coach and the team a lot and I think it's an environment I can do well in," Slagowski says.
Continue reading at: trackandfieldnews.com
U.S. high school boys sub-4 Mile listings HERE.