In her own words: Mary Cain describes her summer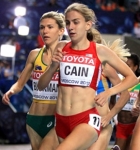 August 30, 2013
U.S. Junior 1500 and Mile record holder writes about her experiences at first senior World Championships in Moscow
By Mary Cain
I can honestly say that the 2013 World Championships in Moscow was the greatest experience of my life. This year, I have been blessed to attend some pretty amazing competitions, such as the Millrose Games, the Pre Classic, the USA Track & Field Championships and Sainsbury's Anniversary Games in London.
Less than a year ago, I was trying to figure out what I would do this year. I didn't know what my seasons were going to look like; my parents and I were at such a loss, there was even talk of taking a year off from running!
Thankfully, Coach (Alberto) Salazar came along and changed my life. He was the first person to tell me that he believed I could make the World Championships in Russia. Back then, I just laughed at the idea.
I don't think it hit me that I had actually qualified for the World Championships, until I walked through customs in Moscow.
Continue reading at: www.dyestat.com