In Running, It Pays to Be Short (Sometimes)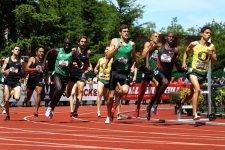 February 15, 2013
By Sara Germano, The Wall Street Journal
It goes without saying that to be a track champion, you have to be swift. But running pros will tell you that, especially for indoor races, it also helps to be short.
Dozens of Olympians and world champions will toe the line Saturday at the 168th Street Armory for the 106th Millrose Games, one of the oldest indoor track meets in the world. Its champions will likely be runners with high esteem, but short stature.
The reason is the track itself. Unlike flat, 400-meter outdoor tracks, indoor ovals are usually half that size. Some have banked curves. That means tighter turns, shorter straightaways and increased congestion for distance races like the Mile and 2-Mile, both of which will be contested on the Armory's banked, 200-meter track. Those factors give an edge to a runner who is more compact with an efficient stride—that is, someone shorter.
Five-foot-8 Bernard Lagat, an eight-time Millrose champion in the Mile, said, "Indoor track favors someone who is shorter and lighter. A 200-meter track is perfect for me." He returns to Millrose this year chasing an American record in the 2-Mile.
Continue reading at: wsj.com