Ingebrigtsen, Nuguse challenge world record in a thrilling Bowerman Mile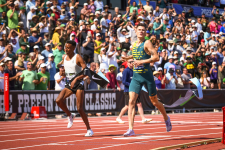 September 16, 2023
A record 11 men sub-3:50 in the same race as well as five national and one world junior records set!
By Maddie Lang
Jakob Ingebrigtsen and Yared Nuguse gave the fans an exciting show in the Bowerman Mile to fittingly cap off the first day of The Prefontaine Classic on Saturday afternoon.
Ingebrigtsen of Norway smashed his meet record with a time of 3:43.73—the fastest Mile in the last 24 years to win the Diamond League championship. He is now #3 on the all-time list, nearing the world record of 3:43.13, set by legend Hicham El Guerrouj of Morocco in 1999.
"It's a very good race, a very good time, but there's definitely some things that can still possibly improve," said Ingebrigtsen, 22, who also broke his U.S. All-Comers record (3:47.24 winning the 2021 Bowerman Mile).
Nuguse set an American record with his time of 3:43.97 (#4 all-time), shattering Alan Webb's record of 3:46.91, set in 2007.
"I came in thinking 3:45 would be a really good race for me, and I was really excited to go out and get that," Nuguse said. "Then I ran like 3:43, a second from the world record. I'm just like, 'How the hell did I do that?'"
Ingebrigtsen, 22, led the entirety of the race with Nuguse, 24, right on his shoulder. Going into the final lap, Nuguse was just one stride behind Ingebrigtsen.
"Coming into that last 200, I was like, 'I know I have a little more because I always do, and I've just gotta keep pushing it,'" said Nuguse, who in February set the U.S. indoor record (3:47.38), winning the Wanamaker Mile.
In the final 50 meters, Nuguse gave his final push to try and overtake the Olympic champion. Ingebrigtsen held his ground and won by .24, securing his third consecutive Bowerman Mile.
While Ingebrigtsen set the pace a tenth of a second faster than Guerrouj's world record time, he said that his pace had nothing to do with breaking the record.
"I knew that I could run fast, but the main objective of the race was to test myself and to see what I can do," he said.
The race was run at 1:50pm, during the sun's peak in Eugene. Ingebrigtsen said that the light from the sun made it difficult to see the pacer lights on the inside of the track, making it harder to track his pace once the pacers were gone.
"It was somewhat difficult and a little stressful to not have 100% control," he said. "If you have the light, it's important that it's there. If not, it can only stress you with trying to watch something that's not as visible as it usually is."
Three other runners set national records: Mario Garcia of Spain ran 3:47.69, Azeddine Habz of France ran 3:48.64 and Niels Laros of the Netherlands ran 3:48.93 and Reynold Cheruiyot of Kenya set a world junior record (19 & under), clocking 3:48.06.
In addition, a record 11 men went sub-3:50 (previous record, 6 from several races).
Put simply, this was a Mile to remember.
U.S. Mile record progression HERE.
CREDIT: Thomas Fernandez