Is Oregon's Edward Cheserek America's Next Great Runner?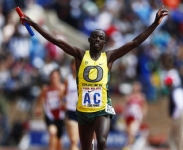 March 11, 2015
A collegiate superstar from Kenya provides hope for U.S. distance running
By Matthew Futterman, Wall Street Journal
American distance runners have spent much of the past two decades losing to Kenyans and Ethiopians. Now the U.S. just might be on the verge of fixing that problem—if a fast Kenyan named Edward Cheserek becomes an American.
A sophomore at Oregon, the 5-foot-6 Cheserek is well on his way to becoming one of the best college distance runners ever, a combination of talent, confidence, dedication, patience and humility whose potential looks limitless.
Just 21 years old, Cheserek will defend his national indoor title in the 3000 meter race at the NCAA Indoor Championships this weekend in Fayetteville, Ark., where he will also be a favorite in the Mile. He won the indoor 5000 meter last year, but is passing on that race this time around to focus on gaining speed.
Continue reading at: www.wsj.com