Is There Hope for U.S. Milers?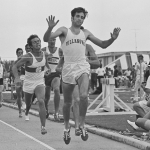 May 06, 2004
By Dick Patrick, USA Today
Fifty years ago today, Roger Bannister recorded the first sub-four-minute Mile — 3:59.4. Since then, as the world record has improved 16 seconds, elite U.S. male Milers have become practically an endangered species.
In an Olympic year, the talk isn't if the USA will have its first 1500 champion since Mel Sheppard in 1908, its first medalist since Jim Ryun took silver in 1968 or its first #1 ranked athlete in the event since Marty Liquori in 1971.
It is whether the USA can produce the maximum three entrants in Athens, a finalist or a runner ranked in the world top 10.
Continue reading at: usatoday.com