It's just one Mile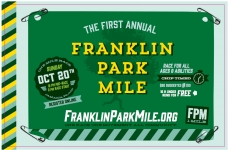 October 17, 2013
Inaugural Franklin Park Mile set for Sunday, October 20
By Chrissy Horan, Boston.com
This might surprise the readers of this blog, but not everyone likes to run.
I know it's hard to believe, but it is true. Fortunately some folks out there are not letting this stop them from trying to get more and more people to experience and enjoy running.
Forest Hills Runners are looking to change the culture of running. They are a community running group based in Jamaica Plain that seeks to get everyone from Olympians to people who have never run a step in their lives to get out and run.
The group welcomes new runners to their weekly runs on Tuesdays and Thursdays at 7:00pm at the Stonybrook T Stop. In addition these runs, the Forest Hills Runners are also hosting the inaugural Franklin Park Mile this Sunday, October 20. The event, like the running group, welcomes runners of all abilities. The distance was purposely selected to encourage everyone to participate from the seasoned runner trying to set a Mile PR to the dad looking to get back into shape.
Continue reading at: www.boston.com