Jaskowak, Cashin Claim Collegiate Road Mile National Titles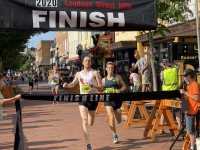 July 31, 2020
"This was a great event and shows when a community comes together and participants follow protocol events like this can be done safely."
From Collegiate Running Association
WINCHESTER, Va. – Daniel Jaskowak (Virginia Tech) and Amy Cashin (West Virginia University) were victorious at the Collegiate Running Association's 2020 Road Mile National Championships on Saturday, July 25. Held within the 33rd Loudoun Street Mile, the men's & women's races featured strong fields including international students attending colleges in the U.S.
With the COVID-19 pandemic still looming over the state, event registration was limited to 250 entries. Runners and walkers took to the streets under sunny skies and morning temperatures in the mid-70s with Old Town Winchester providing a wonderful welcome to participants.
On the men's side, the collegiate field was led by Jaskowak and Matt Lange (George Washington University). Jaskowak, the Collegiate Running Association's 2019 Male Athlete of the Year, made the most of his debut at the Loudoun Street Mile.
The graduate student at Virginia Tech, Jaskowak earned All-American honors at the 2017 NCAA Indoor Championships, running the 1200 meter leg on a Hokies' team that placed second. He holds a personal record of 4:03 in the Mile.
The native of Grove City, Pa., needed every bit of his closing speed to hold off a late race challenge from Lange. Jaskowak was in the lead as he entered the brick area of the walking mall in Old Town Winchester for the final 300 meters, but then Lange and Open runner Elias Graca passed him.
Jaskowak charged with 200 meters to go. The two started to pull away from Graca as they sprinted to the finish. The day belonged to Jaskowak as he claimed victory in 4:14.1. He stayed just ahead of Lange (4:14.2) by the narrowest margin; one tenth of a second. Jaskowak earned $1000 as the top collegian and Open finisher, while Lange claimed $500 for placing second collegian and Open. Third place went to Chase Weaverling (Blue Ridge College) who ran 4:19.9 and took home $175 as the third collegian and 5th Open runner.
"I had races in my schedule, but they either got rescheduled or canceled," Jaskowak said. "When I heard about this race I was really happy that it was going on. It was a chance to get some prize money. As a poor college student, I can appreciate that."
The women's race had a great field of top runners looking for their share of the $4000 prize purse. Cashin, who won the college title last year setting the course record of 4:41.7, took command early and never looked back. Her resume includes a 4:38 Mile and a 9:58 3000m steeplechase.
When asked after the race if she knew what her time was, Cashin said, "Today wasn't about time."
​Cashin, who earned All-American honors in the Mile and the 3000m steeplechase in 2018 at WVU, repeated as champion on the women's side running 4:48.5. The native of Melbourne, Australia hadn't been able to participate in a race since February because of COVID-19.
​"What this pandemic has really done for me is it's reminded me of why I love to run," said Cashin, who is a graduate student at WVU and is about to work toward a PhD after getting her Master's degree. "What was important today was to really embrace the opportunity that I had to race, because I know they're few right now. The thought was to enjoy the process and realize I'm privileged enough to have this opportunity."
​Cashin — who wore a mask for much of the race — said one of the reasons why she wanted to do the Loudoun Street Mile was because she heard the event was making an effort at social distancing and was taking COVID precautions.
​Cashin broke the tape in 4:48.1, earning $1000 for her efforts. University of Richmond, freshman Madison Trippett (University of Richmond) finished in 5:12.0 for second ($250) among collegians and 6th in the Open race, while Kyra Lopez (Virginia Tech) finished for 3rd in the college race and 8th overall to claim $100.
"We were thrilled by today's race and to partner with the Loudoun Street Mile for the second consecutive year to host our Collegiate Road Mile Championship," said Collegiate Running Association Co-Founder Steve Taylor. "This was a great event and shows when a community comes together and participants follow protocol events like this can be done safely. We thank the Winchester, Virginia community and Runners Retreat for their efforts to ensure the safety of participants and volunteers."