Jenny Simpson reveals the rewards ahead for new runners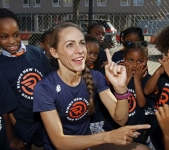 February 01, 2021
One of her proudest achievements is that ability to reset quickly – not from a bad day, but from a career highlight.
By Ed Knowles, OlympicChannel.com
Jenny Simpson is a professional Mile / 1500 meter runner from the USA who is looking to go to her fourth Olympic Games in Tokyo.
Her long and illustrious career includes a 2011 World Championship title and a 2016 Olympic bronze medal.
Jenny's determination is infectious, and it's meant people around her have become runners.
"One of the very crucial things that I try to encourage everyone that's trying this for the first time is, at the beginning, try to get through a month of misery," she said to the Olympic Channel Podcast.
"No matter how hard it is, the first, second, third day. Stick with it. I promise it's worth it."
From more running tips to staying grounded as an elite performer, here are four more things we learned from her chat with the Olympic Channel Podcast.
#1 Beginner running tips
There is a thought that has gone through most aspiring athletes at some point.
What's the point?
When you are starting a new regime, this can be especially challenging.
"There is this phase at the very beginning [where] your body really rejects that initial 'off the couch onto into the run'," Jenny said.
"But once you break through that initial step of your body kind of getting [used to] the actual running part, it's so strange.
"Suddenly, one day you head out and you realize you're a Mile into your run and you've been thinking about something else and the weather is great and you're happy and it's not very hard."
#2 Start running slow sometimes
One of the most common errors for new runners is that they push themselves to the limit every single time they go out for a run.
People run their top speed for as long as they can, and as often as possible.
It's unsustainable.
"You go out, you have easy days, you have hard days," Jenny explains.
You need to build a simple program.
"You start out slower on your easy days. [And] on your hard days, you have to warm up before you go hard."
If in doubt, seek out some help either from the internet or in real life.
"Go to a local running club staff [and] figure out a group to join… you'll learn quickly!"
Continue reading at: olympicchannel.com