Jenny Simpson's Advice for Embracing a New Running Challenge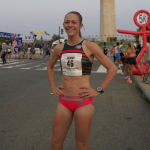 September 16, 2021
"If you're trying something new, take advantage of being a total novice and really enjoy being the person with no pressure and only everything to learn."
By Cindy Kuzma, Runner's World
For nearly a decade and a half, the story of women's 1500 meter running in the United States has had a dominant lead character. Jenny Simpson has made three Olympic and five World Championships appearances, winning bronze in Rio in 2016 and three World medals, including gold in 2011.
But the past 18 months has brought a series of plot twists. First, the pandemic, which stalled professional racing, delayed the U.S. Olympic Track & Field Trials and the Olympics, and left Simpson struggling with the notion that the sport she loved had an uncertain future.
"It was a really challenging thing for me to face, that what we love to do together will be harder to do together, for maybe years," Simpson told Runner's World by phone last week.
When the Trials finally arrived, Simpson placed tenth in the 1500m final (won by Elle Purrier St. Pierre), missing her chance to race in Tokyo. Upon reflection, Simpson believes that in a shortened season that also included injuries and other setbacks, she just didn't plan her peak correctly. But it took her time to reach that conclusion.
"I did have this moment thinking, maybe this is it," she said. "You think, 'Oh, it's not just COVID, it's not just timing. I just turned 35.' You start to doubt yourself and think, maybe this is how it ends."
Her coaches, Mark Wetmore and Heather Burroughs, urged her to redefine the narrative. "We collectively decided this is not going to be the end of the story," she said. "My career has been too fun, it's been too joy-filled, it's been too exciting. We've had too many mountaintops to say, well, when it gets hard, we're gonna give up."
To rebound from the disappointment, Simpson wrote herself a new role: long-distance runner. In an entirely new challenge, she competed on Sunday, September 12 in the Credit Union Cherry Blossom Ten Mile Run in Washington, DC, which doubled as the USATF 10 Mile Championships. Simpson finished in 52:16, second behind Nell Rojas, who outkicked Simpson in the final 400 meters to win in 52:13.
Simpson knows she's not alone in her post-pandemic struggles. Whether you're moving up in distance, trying a fast Mile for the first time, or otherwise looking to shake yourself out of a running rut with a new adventure, here's what you can learn from her transition.
► Use fun as your guide, and enjoy freedom from expectations
Although she'd put in a significant effort ahead of the Trials, Simpson knew she didn't want to take a break after her disappointing result.
"Sometimes when your work is the hardest, the best thing to do is keep working until your environment looks different," she said. "Then you can kind of say, 'Okay, I didn't quit when I was at the lowest low.'"
However, the thought of heading back to the track to compete—or even to the 5th Avenue Mile, which she won seven consecutive times from 2013-19—held little appeal. "I didn't want to do something that I would kind of quietly inside think, 'Three years ago, I was so much better at this,'" she said. When Wetmore and Burroughs suggested going completely outside her comfort zone to a longer distance, that sounded far more pleasurable.
In another call the afternoon after the race, Simpson called the race "a blast." A snapshot her husband Jason took of her just before heading to the starting line that encapsulated her mood, she said: She's looking at him with a big, goofy smile, far more relaxed and happy than she can remember being pre-race.
"If you're trying something new, take advantage of being a total novice and really enjoy being the person with no pressure and only everything to learn," she said. "Be happy when you get to the start and be proud of yourself when you make it to the finish."
Continue reading at: runnersworld.com