Jim Spivey gives advice to young Milers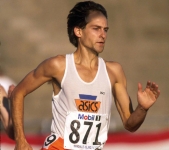 March 06, 2015
"The most important part of your body for running is the 7 inches above your neck!"
By Jeff Benjamin, RunBlogRun
Jeff Benjamin reached out to one of America's finest Milers, Jim Spivey right after the Millrose Games. Now a manager at ASICS America, Jim has served the sport as an athlete, coach and in management at footwear brands.
In this piece, Jim Spivey provided us with some thoughtful advice for young Milers who are coming up through the American system. Spivey knows all about that. In his early career, Jim was a well respected rabbit in European races. When he got better, the meet directors remembered how fine he had run for them, and it was one of those intangibles that helped Spivey in his career.
Three-time Olympian Jim Spivey was quite impressed with the results of the Millrose Games Wanamaker Mile on February 14, 2015. Spivey was especially thrilled and happy about the 10th place finisher. Running a time of 3:57.47, Oregon's John Gregorek not only ran his first sub-4, but also joined his dad and fellow ASICS co-worker, Olympian John Gregorek Sr. as the latest father-son sub-4 minute Mile duo.
Continue reading at: www.runblogrun.com