Jordan Rackham wins fourth St. Paul's Street Mile race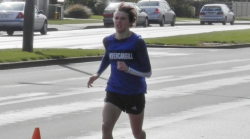 September 05, 2015
In its 27-year history, Jordan Rackham - who is also New Zealand's U20 800m record holder - is the first to have accomplished the four-peat victory.
By Lance Smith, The Southland Times
In its 27-year history, no male has won the Travel Smart-sponsored St. Paul's Street Mile down Queens Drive (Invercargill) four times in a row.
With wins over the past three years, Jordan Rackham set himself a goal of changing that statistic on Saturday. A couple of obstacles, however, were in the way; a cold that made breathing difficult but mainly an in-form Jack Beaumont in his last local outing prior to heading off to Wales for the World Mountain Running Championships.
Beaumont is more at home over longer distances and Rackham is more speed orientated with the country's fastest U20 800m time this year. So tactics were obvious, Beaumont setting a hard early pace to run the sprint out of his rival and Rackham sitting as long as he could then trusting his kick.
Continue reading at: stuff.co.nz