Kampf romps to fifth Front Street Mile crown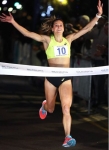 January 19, 2019
As part of Bermuda Marathon weekend, American star wins 28th road Mile since 2011
By Colin Thompson, The Royal Gazette
There is something about the Front Street Mile elite female race that brings the very best out of Heather Kampf and Friday night proved no exception as she cruised to an unprecedented fifth triumph in ideal conditions.
The American made it all look so easy as she led the field across the finish line in 4 minutes, 50.26 seconds to extend her dominance in an event where she is clearly a cut above the chasing pack.
"It's great to be back and this [victory] was a really special one," Kampf said. "I've been absent for the past two years for altitude training or just an injury, so coming back and being healthy and ready to race again in 2019 is really special.
"The time was pretty good, but what I'm happy about is how good I felt doing it. I felt really relaxed early on and then pushed a little more at the end.
"I wish I would have pushed myself a little bit harder on the second half; just to run a little bit of a faster time and make myself really burn it up. But this is my first race in a little while and it's great to come out with a win.
"This crowd is so amazing and it's just so nice to be here in Bermuda and soak up the energy of this place. It's really special."
Kampf was the overwhelming favorite and relished the challenge of living up to the expectations placed on her shoulders.
"If you have that stamp on your back saying, 'She's the favorite', that's really good to have," she added. "I'd much rather have that than be coming in and being uncertain of where I can finish, so I just try to play to the expectations."
Continue reading at: royalgazette.com