Kittatinny's Coombs is All-American in the Mile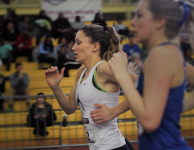 March 29, 2016
Virginia Wesleyan College sophomore breaks own school record, goes sub-5 minutes at NCAA Division III Indoor Championships in Iowa
By Carl Barbati, New Jersey Herald
Marissa Coombs was a standout runner at Kittatinny High School, graduating in 2014 with a string of success stories and accolades, including 1st-Team All-Herald recognition in the 1600-meters event.
But, as it turns out, she was just warming up.
She's now a sophomore at Virginia Wesleyan College.
And, she's now a Division III All-American, earning that title with a personal-best time in the Mile last week at the NCAA Indoor Championships, held in Iowa.
First, she set a personal best time in a preliminary round. Then, she did even better in the finals the next day, setting another personal best with a time of 4:56.45 to finish seventh overall, with the top eight finishers adding the "All-American" tag to their resumes.
"It's still just sinking in," she said by phone from Norfolk.
Continue reading at: njherald.com