Kyle Merber uses Madrid as tune-up for Pan Am Games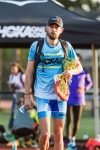 July 13, 2015
Kyle Merber and Andrew Wheating head the U.S. Team in the 1500 for the Pan Am games in Toronto; considered favorites for gold and silver
By Chris Chavez, RunblogRun
On a dry and warm night in Madrid, Kyle Merber (HOKA ONE ONE) stepped off the track after a third place finish in the men's 3000 meter run with a personal record of 7:52.95. Just one of the few Americans in town for Meeting Madrid, he took up on the opportunity to try a longer distance in the lead up to the 2015 Pan American Games in Toronto.
"This gives me some confidence in my ability to take a race whether it comes fast from the gun or slower from the start," Merber said. "It's just fun. I don't want to get stale on just 1500s. If all I did was run 1500s this season and then had to go to Pan Am's to do it, I wouldn't be looking forward to it as much. Even just one makes that difference."
With the state of U.S. middle distance running, the American contingent of Merber and Andrew Wheating should be considered1500 meter favorites for gold and silver in Toronto later this month. Merber lowered his metrric Mile PR to 3:34.54 on May 29 in Greenville, South Carolina and Wheating is coming off a fifth place finish at the USA Outdoor Championships and holds a season's best of 3:38.75.
Continue reading at: www.runblogrun.com