Manzano, Kampf Win Close Races at USA 1 Mile Road Championships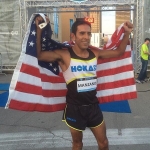 April 22, 2014
2012 Olympic 1500m silver medalist wins his first USA road title; Queen of the Road Mile breaks event record
> Men's Race Video at RunnerSpace.com
> Women's Race Video at RunnerSpace.com
INDIANAPOLIS – Olympic silver medalist Leo Manzano and Team USA Minnesota standout Heather Kampf kicked off their seasons in grand style, winning the men's and women's USA 1 Mile Road Championship races Tuesday evening in Des Moines, Iowa, hosted by the Grand Blue Mile.

The USA 1 Mile Road Championships are the fifth stop on the USA Running Circuit, which concludes this fall with the .US National Road Racing Championships. The top ten finishers at each race on the circuit qualify to compete in the .US National Road Racing Championships.

The men's race kicked off with the entire field running stride for stride through the first quarter mile. Spread out across the road, athletes sized each other up, as the initial pace was relatively modest. Through half way, with the field still tightly packed, the leaders hit 2:11. The comfortable pace meant it was only a matter of time before an athlete made a move to shake up the field.

Travis Burkstrand started to push with just over 400 meters to go, but it was first-year pro Pat Casey who pulled ahead of the pack with a dramatic move, gapping the field with less than 200 meters to go.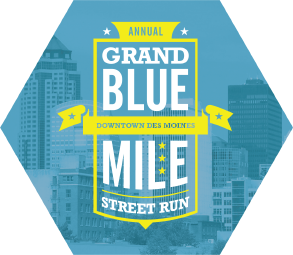 With Casey charging, Manzano, 29, threw down a decisive move of his own, pulling away over the final meters for the win. Manzano, who residents in Austin, TX, broke the finish tape in 4:05.71, narrowly edging runner-up Casey, who clocked 4:05.81.

Garrett Heath hung on over the final strides to finish third overall in 4:06.39. He was followed by fourth and fifth place finishers Jack Bolas and Matthew Elliott, who ran marks of 4:07.37 and 4:08.55. 2013 runner-up finisher Jeff See placed sixth overall in 4:08.60, while Donald Cowart, Burkstrand, Dorian Ulrey and Craig Miller rounded out the top ten.

For Kampf, the women's race played out exactly as she had hoped. A slower pace through the half way mark, Kampf, 27, was able to use her 800m speed over the closing quarter mile of the race to pull away for the victory.

Kampf fought off late charges by both Katie Mackey and 2013 national runner-up Sara Hall, finishing with a mark of 4:34.62, an event record. Kampf's win marks her second USA 1 Mile Road title, after winning the crown in 2012. She finished third at the 2013 event.

Hall nearly edged Mackey over the final steps of the race, but it was the Seattle-based Mackey who came up with the runner-up finish. Mackey crossed the line in 4:35.30, while Hall settled for third in 4:35.81. Hall's performance comes after her runner-up USA 10 Mile Championship runner-up performance earlier this month. Her big 10 point pick-up in Des Moines moves her to third place overall in the USARC standings with 22 points overall, sitting behind current leader Janet Bawcom (27 points) and Amy Van Alstine (25 points).

NJ*NY Track Club runner Heather Wilson finished fourth overall in 4:36.84, while Laura Thweatt rounded out the top five in 4:37.82. Southern California's Lea Wallace placed sixth overall, as Stephanie Garcia and Nicole Schappert placed seventh and eighth. Molly Beckwith-Ludlow and Angela Bizzarri finished well in ninth and tenth.

Contributed by Scott Bush
5th Grand Blue Mile: USA Road Championships
Des Moines, IA, Tuesday, April 22, 2014
MEN
1) Leo Manzano, 4:05.71, $5000
2) Pat Casey, 4:05.81, $2500
3) Garrett Heath, 4:06.39, $1500
4) Jack Bolas, 4:07.37, $1250
5) Matt Elliott, 4:08.55, $1000
6) Jeff See, 4:08.60, $500
7) Donald Cowart, 4:08.88, $300
8) Travis Burkstrand, 4:09.24, $200
9) Dorian Ulrey, 4:09.64, $150
10) Craig Miller, 4:09.64, $100
WOMEN
1) Heather Kampf, 4:34.62, $7500*
2) Katie Mackey, 4:35.30, $2500
3) Sara Hall, 4:35.81, $1500
4) Heather Wilson, 4:36.84, $1250
5) Laura Thweatt, 4:37.32, $1000
6) Lea Wallace, 4:38.57, $500
7) Stephanie Garcia, 4:39.45, $300
8) Nicole Schappert, 4:39.47, $200
9) Molly Beckwith-Ludlow, 4:40.10, $150
10) Angela Bizzarri, 4:41.13, $100
* Course record, $2500 bonus (previous, 4:43.02, Kate Grace, 2013)