Local Olympian Donates to Blue Santa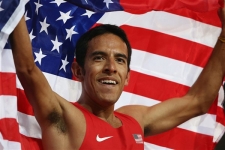 December 13, 2012
Leo Manzano's organization donated $7500
By Calily Bien, KXAN
AUSTIN, Texas - Leo Manzano, the 2012 Olympic silver medalist in the men's 1500 meters, gave the Austin Police Department's Blue Santa program an early Christmas gift on Thursday.
Manzano said the media attention swirling around the needs of the organization convinced him that his charity, Manzano Mile, could help out.
At Austin's City Hall, Manzano presented Chief Art Acevedo with a check for $7500 to help close the funding gap.
"He's really an Austinite, he's a hero, a role model," said Acevedo of Manzano.
A few weeks ago, Manzano was the Grand Marshal in the Chuy's Children Giving to Children Parade -- which also benefits APD's Operation Blue Santa.
From: www.kxan.com