Low Mileage Works for Olivia Sargent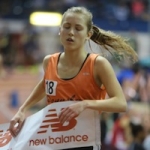 February 13, 2015
The Pennsylvania high school junior is ready for the Millrose Games Mile on Feb. 14.
By Marc Bloom for Running Times
Athlete: Olivia Sargent
Year: Junior
School: Pennsbury High School
Location: Fairless Hills, PA
Mile PR: 4:55.17
3000m PR: 9:59.22
3200m PR: 10:48.52
Key Workout:
10-minute warm-up, stretching, strides, drills
Step-down ladder of 2 x 800m in 2:33 with 400m recovery jog; 4 x 400m in 70–72 seconds with 200m recovery between each; 6 x 200m in 32–34 seconds with 200m recovery; and 2 x 400m in 70 seconds (first 200m in 36–37, second 200m in 33–34).
10-minute cool down, stretching.
Olivia Sargent of Pennsylvania, who enjoyed a breakout cross country season last fall with a Nike Cross Nationals Northeast Regional triumph, has continued her hot pace this winter by qualifying for Saturday's Millrose Games Girls Invitational Mile at the New York Armory. Sargent, a Pennsbury High School junior, earned her invitation after winning the Mile at the New Balance Games on Jan. 24. Her time of 4:55.17 was an 8-second PR. Sargent is one of three Pennsylvania girls among the favorites in a closely matched Millrose field.
Millrose Spotlight: This will be Sargent's first Millrose event. "I don't have any expectations," she says. "I've never run with that many elite runners on the track. I just want to run my race and see how it plays out."
Continue reading at: www.runningtimes.com