Magic of the Mile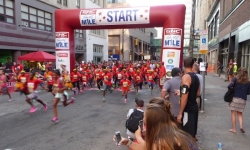 August 25, 2015
"A Mile is a way, in a community, to get people off the couch to do something that's attainable and realistic."
Wanna be the maverick among your running buddies who are training for marathons?
Compete in a one-Mile race and show off your kick.
One-Mile races have become spirited events across the country, drawing big cheering crowds and both recreational and elite runners.
Ryan Lamppa, founder of Bring Back the Mile, a national campaign to promote and celebrate "America's Distance," wants more people to recognize the magic of a Mile.
"If we can get more Americans just doing four laps on a track, or a couple times around their block four or five times a week, they are going to have better health & fitness — they don't need to do a marathon or half-marathon," he tells RunHaven. "A Mile is a way, in a community, to get people off the couch to do something that's attainable and realistic."
Continue reading at: runhaven.com