Masters Champion, 80, Breaks All the Rules and Still Wins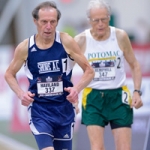 April 09, 2015
Frank Haviland, back to racing after a 13-year hiatus, follows unconventional training.
By Marc Bloom, Running Times
Athlete: Frank Haviland
Age: 80
Residence: Wall Township, NJ
Career: Retired teacher, home construction
Family: Married, two children, three grandchildren
Affiliation: Shore Athletic Club
Personal Best 800 Meters
Indoors: 2001, age 65, 2:24.12 (U.S. record, 65-69)
Outdoors: 2001, age 66, 2:24.98 (World Masters silver medal, 65-69)
2015 USATF Masters Indoor Championships, 80-84 age group
400 meters: First place, 1:20.69
800 meters: First place, 3:18.64
Mile: First place, 7:56.01
If you're looking for a runner who breaks all the rules and still wins big races, 80-year-old Frank Haviland of New Jersey is your man. Winner of the 400m, 800m and Mile in the 80-84 age group at the recent USATF Masters Indoor Track & Field Championships in Winston-Salem, North Carolina, Haviland runs only twice a week and knows only one speed: fast. Years ago, Haviland started his trophy collection racing in high-cut laborer's work shoes. He never does a warmup for competition, fearing "it will tire me out." In his 50s and 60s, Haviland won numerous national age group titles training less than 10 miles a week. Consider his latest lollapalooza: Prior to winning three events at nationals, Haviland came back from a 13-year sabbatical from running. He spent the time building a vacation home in the woods with his bare hands.
Continue reading at: www.runningtimes.com