BU Med Student Runs for All, Wants All to Run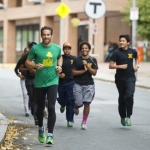 October 19, 2013
Sunday's inaugural Franklin Park Mile race to strengthen community ties and more
By Nate Weitzer, BU Today
Owen Kendall recalls the shock he felt when two bombs exploded near the finish line of the Boston Marathon last April, killing three people, including Lu Lingzi (GRS'13), and injuring more than 200. The veteran long-distance runner had finished the race in under three hours and was walking through Copley Square to congratulate other runners when the explosions occurred. "I felt helpless, horrified, and frustrated," he says.
But in the days following the bombings, the 31-year-old Kendall (MED'15) noticed something remarkable. "I saw how close the city became in the wake of that tragedy," he says. "Boston is a somewhat segregated city, but after the Marathon, it became completely unified. So I really wanted to think of some way to use running to help our community bond like that in the future."
On Sunday, Kendall will realize his dream: an event billed as the Franklin Park Mile, a Mile race around Boston's largest park. The goal, he says, isn't simply to get people moving, but to instill a sense of community by bringing together residents from the diverse neighborhoods that surround Franklin Park—groups of people who rarely interact.
Continue reading at: www.bu.edu