Mile Added to USATF NJ Grand Prix 2014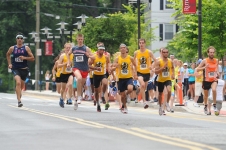 January 12, 2014
College Avenue Mile part of Fast Five Summer Series in June
By Madeline Bost, Daily Record
Runners who follow USATF long distance running and who participate as individuals and or on teams may be surprised when the 2014 rules are posted on the association website.
Proposed rules that were considered shoe-ins did not pass and those considered to not have a snowball's chance in July went through with little debate. What happened?
Let's just say that time has a way of ameliorating things. That is why it is helpful to count to ten, or to sleep on it. The proposed changes are presented at the September meeting for the very reason that all who are voting may need time to study and decided if the change would be beneficial or harmful.
Knee jerk reactions can sometimes be the wrong reaction. Take for instance adding the Mile distance to the long distance running grand prix. Obviously a Mile is far from long distance. On the other hand, what harm can it do to allow a runner's score in a Mile be one of the three needed in the Category One division of the New Balance Grand Prix?
At the Tuesday meeting of the long distance running committee the vote to allow the Mile was only briefly debated. When the vote was taken the Mile was approved. Yes, there are some restrictions. Only one Mile race can be counted. The other two must be longer — generally that will be 5K. This will also apply to the Mini-One grand prix.
Continue reading at: www.dailyrecord.com