#MileProject – Five questions with Jenny Simpson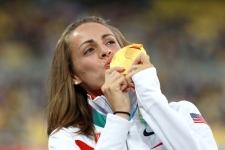 November 11, 2014
"For true Mile experiences, my favorite would have to be the indoor Big 12 Championships in 2009."
By Todd Straka, BoulderRunning.com
I have to admit, I am not the first in my family to take on the #MileProject. Two years ago my daughter had a class assignment in which she decided to train and test herself at running the Mile over a 6 month period. She is a dancer by nature, and running was way out of her comfort zone. As research for her final presentation, I urged her to connect with a few local runners and ask them about their experiences. Here are her questions and answers from the 2011 World 1500m champion Jenny Simpson.
1) Why do you like running the Mile?
My favorite thing about running the Mile is that almost everyone has either run one before or they can relate to the distance. Sometimes when I talk to people about racing other distances such as the steeplechase or the 5000m it's difficult because they don't have much experience with the race and maybe not much to compare it to. Since the Mile is such a familiar measurement of distance, it's fun for people to talk about how fast different people can run it. I also love it because it's so competitive on the world scene right now. The competition is fierce and that makes a win so much more satisfying and meaningful.
Continue reading at: http://boulderrunning.com