Minnetonka native outrunning Father Time and everyone else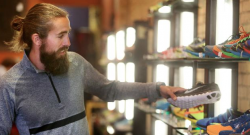 May 08, 2014
At 29, Will Leer is running better than ever and making a stop in his home state.
By Rachel Blount, Star Tribune
The Fu Manchu mustache has been around for several years now, long enough to become Will Leer's signature look. The prodigious beard is a new addition to the Minnetonka native's face, distinguishing him even further from his elite running brethren — and giving him a slight resemblance to Father Time, the guy he is currently outpacing.
At age 29, after seven years of steady progress, Leer has found his best stride. He enters Thursday's Medtronic TC 1 Mile with the fastest time in the world this year at the distance: 3 minutes, 52.47 seconds, run indoors in February at New York City's Millrose Games. A second-place finish in the 1,500 meters at the U.S. indoor national championships in February earned him a place at the world indoor championships, where he finished sixth.
Though he now lives in the Los Angeles area, where parents Chuck and Mary Leer spend winters, Leer appreciates any chance to run in his home state. He is among 22 elite men and 13 elite women — and 3,000 citizen runners — who will race down Nicollet Mall in the 10th edition of the TC 1 Mile. The field also includes three-time champion David Torrence, 2008 Olympic silver medalist Nick Willis and 2014 U.S. road mile champion Heather Kampf.
Continue reading at: http://www.startribune.com/sports/258403241.html