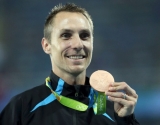 April 20, 2017
"I didn't feel as easy as I have when I've won this before. The turnover was there, but holding the speed I was struggling a little bit the last 50. I don't have that speed endurance [yet] but I'm not too worried."
By Marc Hinton, Stuff
After nearly eight months since he last raced in anger,...
Read More
comments