Making the Most of Your Mile: Minnesota Mile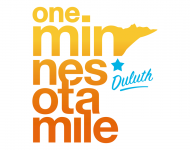 September 06, 2018
5th stop on the BBTM GP Tour heads to Duluth, Minnesota with an event prize purse of $18,000; Team Competition added this year
By David Monico, Bring Back the Mile
The 12th edition of the Minnesota Mile in Duluth takes place on Friday evening, September 7 on a scenic closed loop course overlooking the downtown area. In 2013, Ben Blankenship and Gabe Grunewald (nee Anderson) recorded the two fastest Miles run on Minnesota soil with their 3:52.7 and 4:21.3 clockings on the previous point-to-point downtown course. Once again, the organizers of the Grandma's Marathon and many races throughout the year in Duluth, have added on new components to appeal to new runners, while also bringing in top men's & women's fields.
On the men's side, 12 athletes will toe the line with sub-4 Mile chops, including Minnesotans, Garrett Heath (3:51.0), Will Leer (3:51.82) and Hassan Mead (3:55.91), an 8 x NCAA All-American for the University of Minnesota and 2017 USA 10K champion. 2016 U.S. Cross Country champion Craig Lutz is also racing his final professional event on Friday evening
The women are headlined by Amanda Eccleston, who finished 4th at the 2016 U.S. Olympic Trials 1500m and has a Mile best of 4:20.6 on the roads. Kellyn Taylor is dropping down in distance by 25.2 miles, having won Grandma's Marathon earlier this year in an event record 2:24:28, the seventh fastest American woman all-time. Taylor will not be the only notable marathoner toeing the line though, as Jen Rhines, age 44, a 3 x Olympian with a 2:29:32 best also joins the field in Duluth at the 5th stop on the Bring Back the Mile Grand Prix Tour 2018.
We sat down with Minnesota Mile's Marketing & Public Relations Director, Mandi Peterson, to chat about the Mile, introducing new components to the race and their commitment to youth in their community.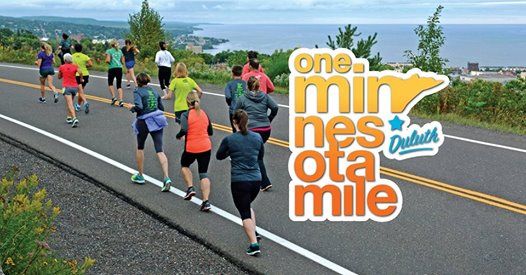 BBTM: Why did the Grandma's Marathon team introduce the Minnesota Mile in 2007?
Mandi: This is the 12th year of the Minnesota Mile and it was introduced as race that anyone can run; it's a distance for all abilities. So whether you're a more novice runner and you've never ran a race you can get out there and try it and just see how it goes. Or if you're a very experienced runner, those runners want to get out there and run as hard and as fast as they possibly can and keep feeding their PRs. And then it ranges from everyone in between. Some just want to experience the course. There's all different reasons in between.
For the novice runner it's especially great. Now there's all these apps and programs like Couch to 5K, for example, but back then we didn't have those types of programs and motivational things to get out and run. The Mile is one of those where it's like, "Oh a Mile, I think I can try a Mile".
You are introducing a Team Competition this year. Can you walk us through this new race feature?
This year we decided to introduce a team competition as another feature to get people excited and involved. You may be interested in running yourself, but your co-worker or your neighbor sees you out running or notices and is kinda interested, but not really incentivized to get out there themselves. This is a way to encourage other people to get out there with you and make it a team effort; make it more fun and enjoyable for everybody.
Each team just has to have a minimum of 3 people and then obviously the more the merrier. The larger the team the better because you're getting more people active and you're also having more fun. For the team rankings we'll take the top 3 times and average that for their team time. In a team setting no one person has the pressure on them. It's about having a good time on Friday night in Duluth together.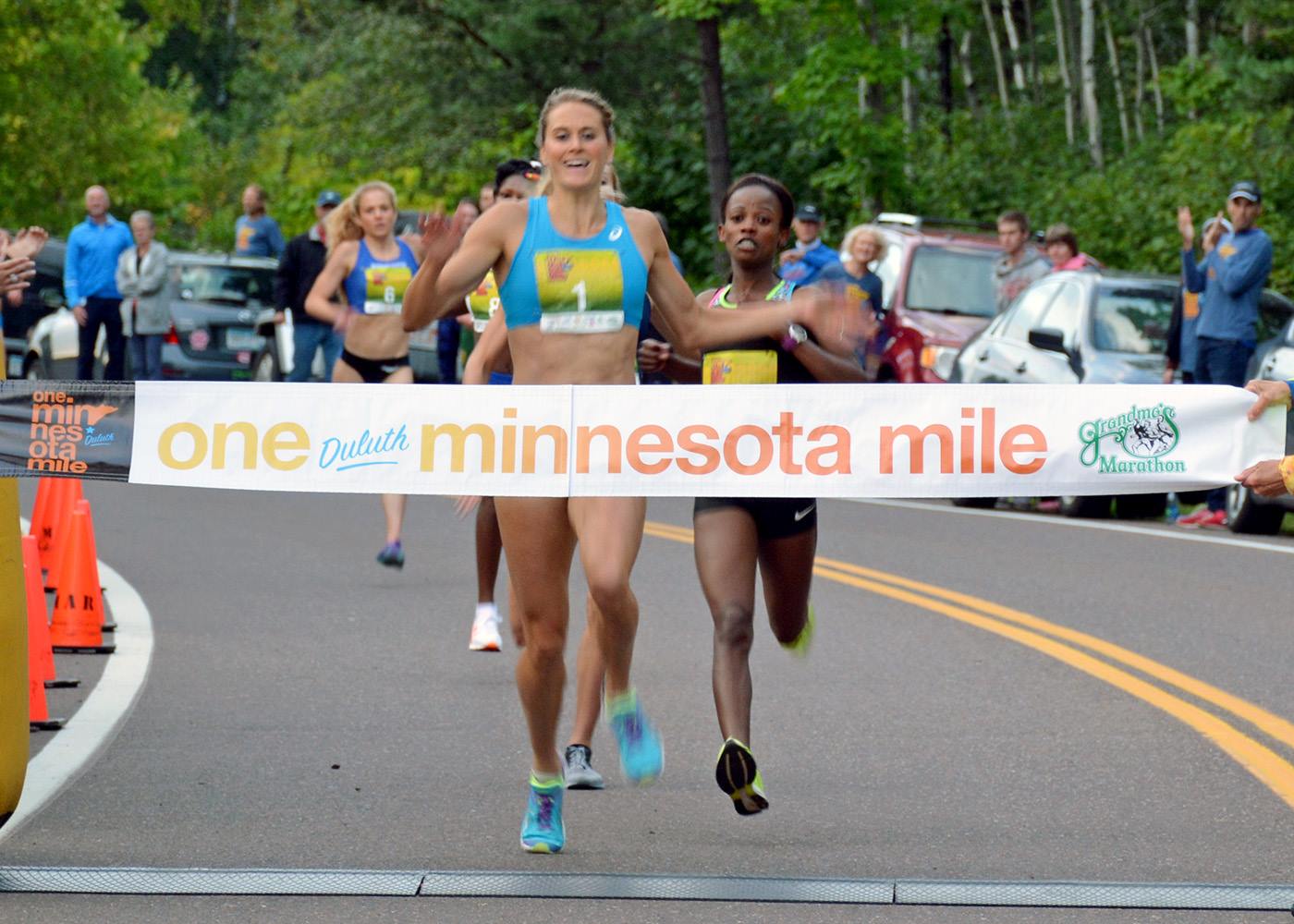 Turning to the elite races you have great fields, including some of America's top Milers and even some of America's top marathoners dropping down in distance. What do you think attracts them to Duluth?
That's a good question. The timing in the year helps with perfect, cooler running weather. In the past there have been so many fast times that have come out of the Minnesota Mile here in Duluth. I think that word has spread as well. Other unners that are interested in getting their best time or competing have heard of those things and have put the Minnesota Mile on their radar.
For example, Kellyn Taylor who is now a well-known name here in Duluth because she won the Grandma's Marathon, while setting the event record this last June, is returning for the Mile. She had done an interview earlier this summer after Grandma's and mentioned she wanted to run a Mile and get her best time. Because she decided to do this attempt back in Duluth is really exciting. That would be great if she set another one of her personal records in a much shorter race and in the same year.
There's also a great race shaping up in the men's field between three Minnesotans: Garrett Heath, Will Leer & Hassan Mead. How does the community react to that?
The community does know that elites come in from all over the country and compete here and so since it is race week it is, the buzz is getting louder and it's getting more exciting since Friday is coming up quickly here. We have a great running history in Minnesota and it's always great to welcome Minnnesotans to Duluth.
The Grandma's Marathon organization also has a Young Athletes Foundation (YAF). How does that play into the Minnesota Mile?
The YAF is the charitable arm of Grandma's Marathon and the Minnesota Mile will include a youth category; we're really excited about it and have close to 60 youth runners signed up to run. It's really encouraging to see these young kids getting out there and getting excited about it themselves. Actually, one of the Team Competition categories is youth (14 & under), so that one is going to be really cute to see. It's great to see them get excited about their events and hopefully spur a love of running for the rest of their lives. The kids are so good and they're so passionate about it. They don't hold back. They just wear their hearts on their sleeves.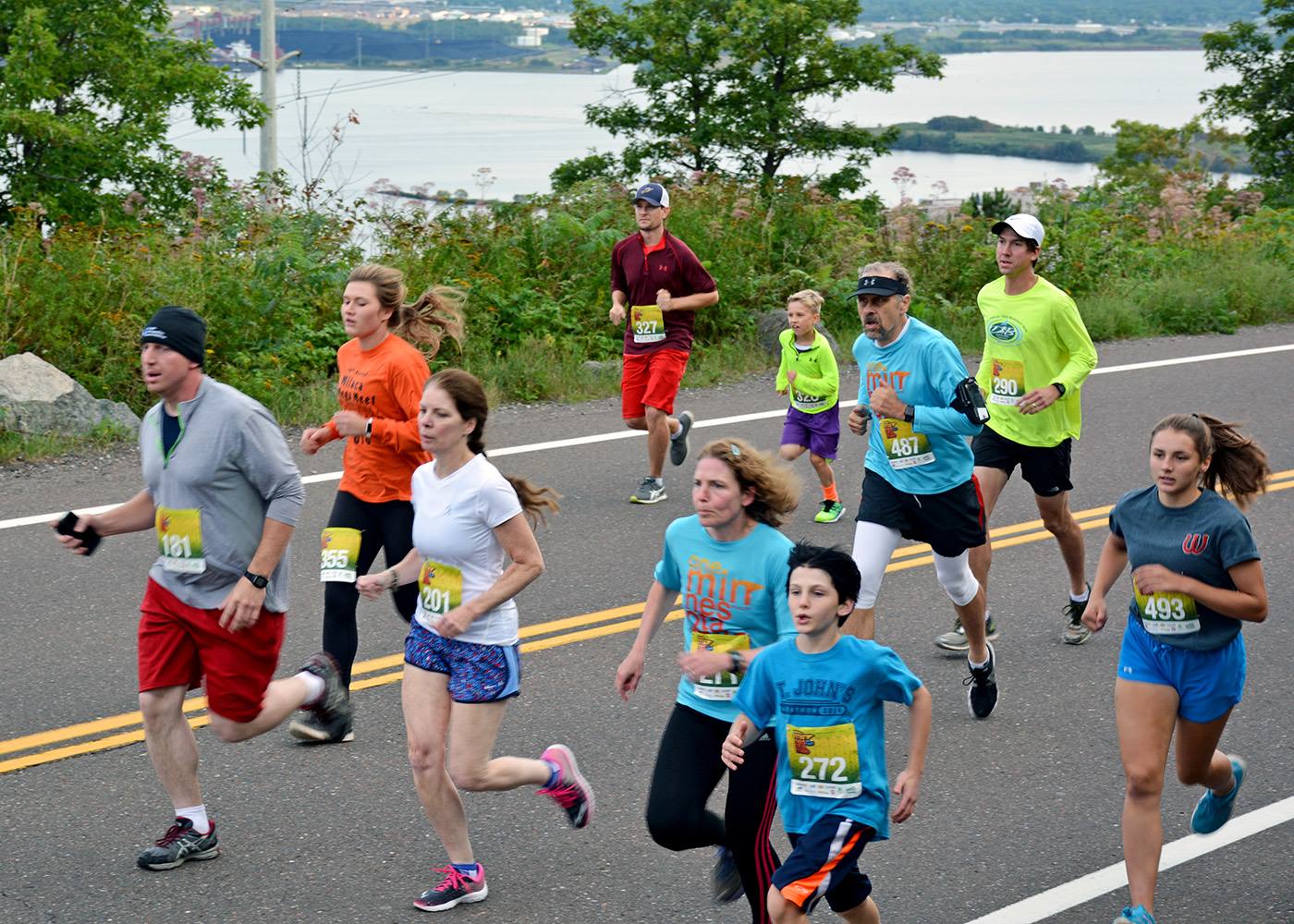 As for YAF year-round, we want to to support youth activity, not just running, throughout the community. The grant program is available for any sort of activity that fits into the mission. The YAF committee meets once a month and they review all of the applications that come in. Any organization that participates in recreational or athletic activities can submit an application. Before I started my full-time position here, I was actually on the YAF committee. It was really good to see how the YAF gives back to the community. We are able to give to a lot of areas that people aren't aware of just because there's so many different organizations and groups out there that can use the support.
It's also really nice to see how it goes to so many different types of activities from snowboarding to boxing to baseball. All across the board, any recreational activity that you can almost think of. Recipients can also apply once every two years. We want to ensure organizations can receive the funding that they might need to help their program going or at least in part help keep it going.
Back to the event itself, the closed loop course overlooking Duluth seems beautiful. Can you walk us through it?
Being up on the hill, adjacent to the Enger Park golf course is a little bit different from being right downtown. Normally, a lot of runners don't run around the Skyline Parkway just because it is such a narrow road for cars when they're driving. They'll be overlooking the city and there's not really a running path or sidewalk on the edge up there. Normally it's not safe to run on, but come Friday evening everyone can experience the closed loop Mile course and have a great time.
We're also providing shuttles up there to make sure it's easily accessible to go up and participate. We want to make sure it's easily accessible for everybody to get up there and enjoy the race.
The closed loop course overlooking Duluth is also great to allow, let's say, the parent, the mom or the dad or the guardian to start out with their child, but then they can go off and run a little faster. Their child will be safe and finish on the same closed loop course. Everyone can run at their own pace and not feel pressured to keep up with one or the other. It's really a beautiful course with a great view.
What can participants and fans expect to experience on Friday evening?
Our community here in Duluth in the Twin Ports area is absolutely fantastic and really does support and embrace all of our events. We're really fortunate to have that sense of community and sense of pride in supporting all of our events. We wouldn't be able to put on and execute a lot of our events without all of the community members and volunteers that come out and help make these operations run smoothly.
We have exciting elite fields for everyone to cheer on some of the fastest runners in the world, but it's also a race that everyone can participate in. We always have a lot of families that participate together, which is great to see.
Finishers will get a t-shirt and we have a great post-race celebration. We'll have music, the awards as well as food and beverage specials for all of the participants.
Thank you, Mandi, and go Minnesota Mile!
Thank you!