Mission Accomplished! Leslie Breaks Four-Minute Barrier at RunRhody.com Exeter/West Greenwich Mile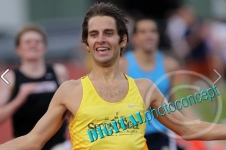 August 08, 2012
By Stephen Mazzone, RunRhody.com
WEST GREENWICH - Consider it done.
Cory Leslie, a 22-year-old Ohio State All-American and U.S. steeplechaser, became the first runner to register an outdoor sub four-minute Mile on R.I. soil Tuesday night, August 7, accomplishing the feat at the RunRhody.com Exeter/West Greenwich Mile. The race, held at Exeter/West Greenwich High, was formed specifically by RunRhody.com founder and road-racing guru Charlie Breagy to make an attempt at the milestone clocking.
Leslie beat a talented field of six world-class runners with a time of 3 minutes, 58.98 seconds. Northeastern senior Eric Jenkins finished second at 4:00.13 and University of Notre Dame grad Daniel Clark was third with a 4:00.29 clocking.
Continue reading at: runrhody.com