Murphy, Mackey Win USA Titles at Grand Blue Mile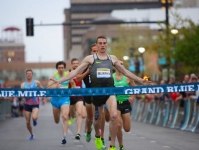 April 25, 2017
2016 Olympic medalist Clayton Murphy also crushes course record with sub-4, earns $2500 bonus; first stop on the Bring Back the Mile Grand Prix #Tour2017
By Scott Bush for USATF
DES MOINES - Close finishes defined the USATF 1 Mile Road Championships Tuesday evening in Des Moines, Iowa, as 2016 Olympic bronze medalist Clayton Murphy kicked to victory in the men's race, while Katie Mackey earned the upset victory on the women's side. Each national champion earned $5000, while Murphy also took home a $2500 course record bonus.

The national championship event, hosted by the 8th Grand Blue Mile, was the third stop on the 2017 USATF Running Circuit and the Bring Back the Mile Grand Prix Tour 2017 season opener.

The women were first to the line Tuesday night. As the sun set behind the runners, the talented field readied to race and as the gun went off Olympian and race favorite Shannon Rowbury and former multi-time NAIA champion Hannah Fields shot to the lead.

Through the first quarter mile of the race, Rowbury, Fields and Amanda Eccleston led the way, with a tight knit pack of runners trailing closely behind. The honest early pace continued through half way, with not much changing amongst the leaders.

With a quarter mile to go, Rowbury started her drive to the finish, putting a slight gap on the field. As the runners approached the finish line, Mackey made a strong move past Fields, catching and passing Rowbury. With less than 100 meters to go, Mackey had a clear lead she never gave up, crossing the line victoriously.

Mackey, earning her first USATF road title, crossed the finish in 4:37.0, just ahead of a late-charging Eccleston, who took home runner-up in 4:37.4. Rowbury hung on for a third place finish of 4:37.6, while Eccleston's fellow University of Michigan alum Shannon Osika also broke the 4:38 barrier with a 4:37.9 fourth place finish.

Rounding out the top five, veteran Dana Mecke broke 4:40 with a mark of 4:39.6. Fields held on to place sixth in 4:41.7, while Alexina Wilson held off Ashley Maton for seventh, 4:42.1 to 4:42.8.

Team USA Minnesota's Meghan Peyton once again earned a top ten finish with a time of 4:43.8 for ninth, while Tori Solis rounded out the top ten with her 4:45.7 effort.

After the women's race wrapped up, it was the men's turn and a large field meant anything could happen as the gun sounded.

Coming off the line, a dozen men quickly took turns leading the first 200 meters, finding their pace and settling in. 2013 race champion and course record holder Garrett Heath led the early charge, using his experience to keep out front and out of any congestion taking place behind him.

Through halfway, nine men were shoulder-to-shoulder, spread out across the road. Heath, Cristian Soratos, Pat Casey and Riley Masters led the way, with plenty of others trailing just behind.
With a quarter mile to go, Daniel Herrera shot past the competition and into the lead. While trying his mightiest to pull away from the field, Herrera faded with 200 meters to go, as Murphy made his move.

Charging hard to the finish, Murphy put a small gap between he and the rest of the field, but former college teammates Masters and Casey were right on his heels.

Murphy made one final push, holding off any late runs, crossing the line in 4:00.0 (3:59.96), breaking Heath's 2013 course record (4:02.79). Masters, defending BBTM GP Tour champion, finished a close second in 4:00.3, while Casey also broke 4:01 with his 4:00.9 third place.

Heath used a late kick to take home fourth overall in 4:01.4, just ahead of fifth place finish Brandon Lasater in 4:01.6. Former University of Oregon All-American Trevor Dunbar kept with the pack for the final sprint, taking home sixth in 4:02.0, just ahead of Izaic Yorks and Andy Bayer who finished seventh and eighth in 4:02.1 and 4:02.8. Soratos struggled home for a ninth place finish in 4:04.3, while Olympic steeplechase finalist Hillary Bor took home tenth in 4:05.5.
8th Grand Blue Mile: USA Road Championships
BBTM Grand Prix Tour 2017 first stop
Des Moines, IA, Tuesday, April 25, 2017
MEN
1) Clayton Murphy (OH), 4:00.0 (3:59.96)*, $7500#
2) Riley Masters (CO), 4:00.3, $2500
3) Pat Casey (OR), 4:00.9, $1500
4) Garrett Heath (WA), 4:01.4, $1250
5) Brandon Lasater (GA), 4:01.6, $1000
6) Trevor Dunbar (OR), 4:02.0, $500
7) Izaic Yorks (WA), 4:02.1, $300
8) Andy Bayer (OR), 4:02.8, $200
9) Cristian Soratos (MT), 4:04.3, $150
10) Hillary Bor (CO), 4:05.5, $100
* course record (previous record, 4:02.79, Garrett Heath (USA / MN), 2013)
# includes $2500 course record bonus
WOMEN
1) Katie Mackey (WA), 4:37.0, $5000
2) Amanda Eccleston (MI), 4:37.4, $2500
3) Shannon Rowbury (OR), 4:37.6, $1500
4) Shannon Osika (MI), 4:37.9, $1250
5) Dana Mecke (TX), 4:39.6, $1000
6) Hannah Fields (MI), 4:41.7, $500
7) Alexina Wilson (IA), 4:42.1, $300
8) Ashley Maton (OR), 4:42.8, $200
9) Meghan Peyton (MN), 4:43.8, $150
10) Tori Solis (CA), 4:45.7, $100
For complete results, go to: grandbluemile.com
The next BBTM GP #Tour2017 stop is the Medtronic TC 1 Mile on Thursday evening, May 11 in Minneapolis. Tour update and standings at: bringbackthemile.com/tour