National Road Championships return to Grand Blue Mile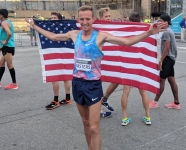 March 24, 2019
Defending champions Riley Masters, Emily Lipari headline 10th event edition in Des Moines; $30,000 overall prize purse to be awarded
Grand Blue Mile (GBM) officials from Wellmark Blue Cross and Blue Shield and Drake Relays announced the national Mile road championships will be returning in 2019 as part of the annual Grand Blue Mile on Tuesday, April 23. The addition of the prestigious USATF 1 Mile Road Championships elevates the elite-level competition of Grand Blue Mile and is expected to attract Olympians and World Championship participants from across the country to vie for a national title and share of the $30,000 prize purse. GBM also hosted the 2013-14 and 2017-18 USA Championships and will again open the Bring Back the Mile Grand Prix Tour.
"As Grand Blue Mile celebrates our tenth anniversary, we are honored and privileged to welcome back the USATF 1 Mile Road Championships," said Chris Verlengia, Wellmark Blue Cross and Blue Shield's senior brand marketing manager and Grand Blue Mile co-race director. "Being entrusted to host a fifth national championship in 10 years provides even more reason to celebrate the tremendous impact this special event has throughout central Iowa and beyond."
Early entrants for the 2019 USATF 1 Mile Road Championships at GBM include:
► Riley Masters – 2018 USATF 1 Mile Road Champion & 2016 BBTM GP Tour champion
► Mikey Brannigan – 1500m Paralympic gold medalist
► Emily Lipari – 2018 USATF 1 Mile Road Champion & 2-time BBTM GP Tour champion
► Heather Kampf – 2014-16 Grand Blue Mile Champion & 3-time BBTM GP Tour champion
"Grand Blue Mile has gained notoriety and prestige with America's most decorated Milers," said Blake Boldon, director of the Drake Relays. "Now marking the event's tenth anniversary, we're proud to continue our longstanding partnership with Wellmark to extend the Drake Relays experience to thousands of participants and spectators alike."
In 2018, more than 40 track & field stars competed for the national title and share of the USA prize purse at GBM. Riley Masters won the men's championship with a time of 4:03.12. The women's national crown was captured by Emily Lipari with a time of 4:32.87.
Set the Pace Challenge encourages communities to get moving
GBM officials also announced its continued partnership with the Healthiest State Initiative (HSI) for the return of the Set the Pace Challenge. This challenge encourages Iowans to develop sustainable, healthy habits throughout 2019 — starting with participating in GBM on April 23.
As part of the challenge, the community with the highest percentage of its residents participating in GBM — measured by the number of registrants for a given ZIP code against its total population — will be awarded $10,000 to use on a project that promotes safe and accessible places in which to be active, such as a park, playground or trail.
"We are excited for another year of the Set the Pace Challenge," said Jami Haberl, HSI executive director. "The award provides a great incentive for communities to rally together around. The benefits are two-fold: They'll be participating in a fun, physical activity and making an effort to better their community."
The 2018 Set the Pace challenge community winner, Lohrville, used their award to complete a trail.