Nikki Hiltz looks back at and ahead of breakout season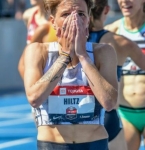 January 10, 2020
Her chance to make the Tokyo Olympics is solid, but it's Hiltz's commitment to staying true to herself from now on that will lead her to the happiest finish lines.
By Erin Strout, Women's Running
It wasn't until she came out to her family in 2016 that Nikki Hiltz, now 25, started running at the level she knew she could. As a junior at the University of Arkansas at the time, she entered her senior year without any heavy secrets left to slow her down.
"When I decided to be who I am, a weight was lifted. I don't think my breakthrough season was coincidental—I was holding back this part of me, hiding it and burying it," she says. "When you're happy and holistic off the track, it's going to translate on the track. That was that."
As a result, she says, she ended that college career not the injured, under-performing athlete she once was, but the runner-up in the 1500 meters at the NCAA Outdoor Championships, poised to sign a pro contract with adidas and move to San Diego with her girlfriend, Therese Haiss, where they train with The Mission Athletics Club, under famed middle-distance coach Terrence Mahon.
The moment Hiltz felt free to lead an authentic life, she soared and fans have come to know a genuinely happy athlete, as quick with a big smile and a disarming joke as she is with her kick down the straightaway in a championship race.
Throughout her rookie pro year, her times across all distances improved and her racing tactics sharpened. When she crossed the line first in the Mile at the Boston Boost Games, a rainbow pride flag was draped over her shoulders. Adidas splashed a photo of the moment of victory to 25 million followers on its Instagram page and Hiltz welcomed the kind of platform that might reach kids going through similar doubts and fears as she did while grappling with her identity in her younger days.
Continue reading at: womensrunning.com