Not Yet Ready for His Last Mile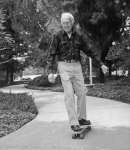 February 15, 2003
''I don't consider myself a hero, but more of a grateful survivor.''
By Ira Berkow, New York Times
In June 1944, Anthony & Louise Zamperini were at their home in Torrance, Calif., when they received the following message regarding their son, an airman who at age 19 had been a member of the 1936 United States Olympic track & field team:
''In grateful memory of First Lieutenant Louis S. Zamperini, A.S. #0-663341, who died in the service of his country in the Central Pacific Area, May 28, 1944. He stands in the unbroken line of patriots who have dared to die that freedom might live, and grow, and increase its blessings. Freedom lives, and through it, he lives -- in a way that humbles the undertakings of most men.'' It was signed by President Franklin D. Roosevelt.
On Thursday morning, in a coffee shop in Midtown Manhattan, a slender, very much alive 86-year-old man sat wearing a baseball cap, his bright eyes behind a pair of glasses. ''I still have that condolence letter in a drawer at home along with my three Purple Hearts -- one for being wounded, one for being a prisoner of war, and one for being dead,'' Louis Zamperini said, smiling. And why not? His has been a life not devoid of incident, and he was here to tell his story.
Zamperini is in New York to be the honorary referee at the Armory Collegiate Invitational track meet, in its second and final day today at the Armory Track & Field Center in Upper Manhattan. His is a name of note. In 1945, when he was presumed dead, the IC4A meet at Madison Square Garden named its invitational Mile the Louis Zamperini Memorial Mile in his honor. A year later he attended the event in person. He tried to run again, with the goal of making the 1948 Olympic team. Knee and ankle injuries from the war kept him from regaining his world class form.
Zamperini was born in Olean, N.Y., on Jan. 26, 1917. His family moved to Torrance in 1920, where he set the national high school record in the Mile at the Los Angeles Memorial Coliseum in 1934; his record time of 4 minutes 21.2 seconds would last for 19 years. Two years later, in the Olympic Trials at Randalls Island, he finished in a dead heat with Don Lash.
Running for the University of Southern California, Zamperini won the NCAA and IC4A championships in the Mile. He missed the world record by one and a half seconds.
As a light-hearted teenager, he went to the 1936 Berlin Olympics and competed in the 5000 meter race, finishing eighth. ''I thought it was good preparation and experience for the 1940 Olympics,'' he said. Those Olympics, scheduled for Tokyo, were canceled because of war.
During the 1936 Games, Zamperini stood with other athletes near Hitler's box and wanted a photograph of him. ''I was pretty naïve about world politics, and I thought he looked funny, like something out of a Laurel & Hardy film, especially the way he stomped his feet and slapped his thighs,'' Zamperini said. Because he was not close enough to take the photograph, he asked one of Hitler's entourage to take it for him. ''It was the skinny guy,'' Zamperini said, referring to Josef Goebbels, the minister of propaganda.
Zamperini would not remain so light-hearted.
Soon after the United States entered the war in 1941, he enlisted in the Army Air Corps. He was a bombardier in a B-24 that was flying a rescue mission on May 27, 1943, when his plane malfunctioned and crashed into the Pacific. Then began one of the several harrowing experiences of his life.
He was adrift in a life raft for 47 days. He was with his co-pilot, Second Lt. Russell Phillips, and the tail gunner, Sgt. Francis McNamara, who died after 33 days. The Americans fought off hunger, thirst, heat, storms while trying to avoid either being shot by Japanese planes or eaten by sharks. They subsisted on rainwater and the few fish they could catch; Zamperini, who is 5 feet 9 inches, went from 125 pounds to 75 pounds.
Continue reading at: nytimes.com