O'Hare, Leonard Win British Titles at Bupa Westminster Mile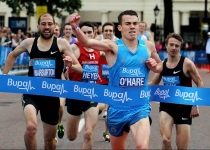 May 24, 2014
Winners clock road PBs at London event, while David Weir sets wheelchair road Mile world best; more than 5,000 participants at second edition
By Steve Smythe, Athletics Weekly
Watched by Roger Bannister and Mo Farah, more than 5,000 runners took part in the second Bupa Westminster Mile, a series of races starting at The Mall and finishing outside Buckingham Palace on Saturday.
The conditions were often testing with torrential rain and lightning marring some of the earlier and latter events.
The centerpiece of the six hours of racing was the British 1 Mile Road Championships.
Moscow world finalist Chris O'Hare controlled the last 400m to win a tactical men's race in 4 minutes 6 seconds, a stride ahead of Chris Warburton. Jonathan Hay went up on the podium though the official post race results had Andrew Heyes in that position, sharing Warburton's and Hay's 4:07 time.
"I wasn't too confident as it's only my second road Mile. I ran one in Boston recently so it's nice to get a win on home soil," said O'Hare, who took eight seconds off his Boston time in the British capital.
Continue reading at: www.athleticsweekly.com