Olympic Fall Keeps Morgan Uceny Out of Next 1500 Race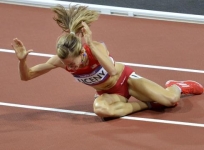 August 15, 2012
By David Woods, The Indianapolis Star
Morgan Uceny, the Plymouth, Ind., runner who tripped in last week's 1500 meter final at the Olympic Games, pulled out of a scheduled race Friday because of injuries resulting from her fall.
Uceny was in good position heading into the last lap of her race at the London Olympics. After falling, she slapped her palms on the track in frustration, knelt with her head down and sobbed for several minutes.
The outcome seemed doubly cruel because she also fell at last year's world championships.
Continue reading at: usatoday.com