Olympic silver medalist Leo Manzano Q&A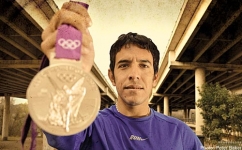 September 05, 2013
"Of course the Mile was and is a prime event so it was exciting to be part of the historic event."
By AthleteGo
Leo Manzano is an American distance star who is known for the 1500 and the Mile. For any runner out there knowing your maximum Mile speed is the benchmark. Leo won the 1500 meter silver medal in London 2012, America's first since Jim Ryun's silver in Mexico City 1968. In high school Manzano won nine Texas 4A state titles, and he raced for the University of Texas (go, Longhorns!). Leo is great to follow on Twitter - you really get a feel for the international track and field circuit. Leo was kind enough to sit down with AthleteGo and he provided some great tips!
AthleteGo: Let's talk about "the Mile". For the weekend warrior how fast you run a Mile is like how much do you bench. What attracted you to this iconic distance?
Leo: I found my passion for running and fell into mid and long distance running. Of course the Mile was and is a prime event so it was exciting to be part of the historic event. Thinking about how it used to be impossible to break the 4 minute Mile.
AthleteGo: An interesting thing with track we see athletes race the 100 and 200 or the 200 and 400. Not many 400 to 800 guys. You're coming off Moscow and I read you're on deck to run a 5K in Brussels. Are you racing up or is this just for sport?
Leo: I am actually running the 800 there. But I do see myself racing more 5Ks more or less for fun throughout the year.
AthleteGo: With the 1500 and the Mile, what is a long run for you and what type of pace?
Leo: My longest run of the season training for the 1500/Mile is about 1 hour and 45 minutes.
AthleteGo: On the mental side, because of the duration of your event your focus vs. someone racing 400 meters or less very different from the Mile to the marathon. Do you have mindfulness practice? If so, would you describe it?
Leo: Visualization is a key part of the performance. Every night before my race I will go over it in my head reenacting different scenarios and of course the scenario I want to happen.
Continue reading at: http://athletego.com