Olympic track: Winning gold won't be easy for Uceny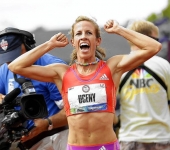 July 06, 2012
By Tim Creason, South Bend Tribune
Compared to what lies ahead, winning the women's 1500-meter run at the U.S. Olympic Trials may seem like a piece of cake for Plymouth native Morgan Uceny.
Fact: Since 1972, when the women's 1500 was added to the Olympic lineup, no American has ever won a medal in that event.
Mary Decker Slaney couldn't do it. Neither could 90's icon Suzy Favor Hamilton. Not Vicki Huber, not Ruth Wysocki. Nobody.
So hold no illusions about a gold medal -- or silver, or bronze, for that matter -- being easy for Uceny to win.
Continue reading at southbendtribune.com