Ottawa Brings Back the Mile!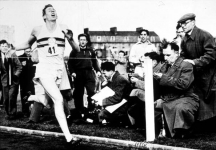 September 24, 2013
On Thanksgiving Monday, October 14 in Ottawa, like an increasing number of cities in North America, the Mile is making a comeback.
By Geordie McConnell, Founder and Head Coach, Ottawa Running Club and Ottawa Triathlon Club
Two thousand years ago Roman warriors marched through Britain on their conquest, counting their steps. Every 1,000 paces (or two steps) the ground was marked, and called a Mile.
Two weeks ago, in Ottawa's Wellington Village neighborhood, a specially calibrated bicycle was ridden on the main street and there too the ground was marked, and it was called The Wellington Mile.
The Mile as a distance, was left orphaned some time ago in Canada and is now ready to be reclaimed as the classic running distance. In a culture that seems to crave volume over quality, running has been redefined over the last 20 years. The entry point to the running world is now seen as 5 kilometers and that is too long. Many will be daunted by that distance and decide that running is not for them. If every able bodied individual in our community had the health and fitness to jog one Mile (1609m), imagine the increase in our society's overall wellness. Why not train to jog a Mile, a much more attainable and sustainable distance? As your fitness increases, you will see that, at the same effort level, the time it takes you to cover the Mile will go down as your wellness goes up. If you need goals, there is none more challenging than running a faster Mile. Will you break through the 11 minute barrier, or 10 minutes, or even 6 minutes?
Upon entering the running world, participants are soon subject to a social pressure which, for some, can be deleterious; I call it 'Move Up Syndrome'. Once a runner has completed a given distance, a 5K for example, it is inevitable that a friend will press to know when they plan to 'move up' to the 10K. From 10K it's the half-marathon and then on to the marathon. I know an Olympic marathoner, someone who, we'll all agree, has found his niche. He was once asked when he would move up to the ultra marathon.
Continue reading at: www.weightymatters.ca