Oviedo's Jenny Simpson: "I never imagined that I would be this good for this long"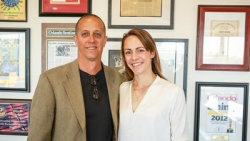 September 15, 2018
"It's loving what you do, but also knowing all of the work that you put into it and not giving an inch, because you know you worked so hard."
By Stephen Ruiz, Orlando Sentinel
Jenny Simpson did what she always does last weekend to end her running season.
She ran in New York, and as seemingly always, she won.
The former Oviedo running standout topped the women's division for the 5th Avenue Mile for a record seventh time. She finished in 4 minutes, 19 seconds, but the time on the clock is not as important as what the race symbolizes.
Simpson, 32, sees those 5,280 feet for its sense of closure to a long season, as well as a way to show appreciation to friends, family, sponsors and New York Road Runners, the race's organizer.
All can't be in Simpson's shoes, but she said she feels as though they are.
"I really want to bring home a win for them,'' Simpson said.
The first American woman to earn an Olympic medal in the 1500 meters — Simpson captured a bronze in 2016 in Rio de Janeiro, Brazil — she spoke by phone with the Sentinel.
Question: You turned professional in 2010 after competing at the University of Colorado. What were your expectations for how your career would go?
Simpson: "When I was in high school, my huge, giant dream was that I wanted my running ability to pay for school. That's about as far as I could possibly think or dream at that time. Then in college, I wanted to do as well as I could and hopefully maybe, maybe someday make an Olympic team. The best way I can say it is — I described to someone recently that I never imagined that I would be this good for this long. It really has been a dream.''
Continue reading at: orlandosentinel.com
Jenny picks her 5 most memorable races HERE.