Oxford remembers life of Sir Roger Bannister at Sheldonian ceremony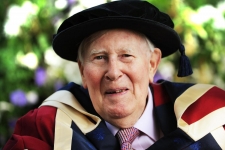 November 17, 2018
"It is rare to make such an impact in 4 minutes and rarer still for one act to have such a resonance... The world of sport needs its heroes and he will forever be one of its greatest."
By Tom Williams, Oxford Mail
In a rare coming together of all tenets of city life, a service in the Sheldonian Theater on Tuesday, November 13th honored the extraordinary life of Sir Roger Bannister, the neurologist who ran the first 4 minute Mile.
The great and the good gathered to pay their respects to a man who was described as both modest and humble but also someone who excelled at everything he put his mind to.
Speaking to the Oxford Mail after the ceremony, daughter Rev Charlotte Bannister-Parker said the family had been overwhelmed with the huge outpouring of support shown by residents after the death of Sir Roger on March 3rd, aged 88.
She said: "We are so grateful that he has been remembered for all aspects of his life.
"This service recognized not just what he achieved in running but for his medical endeavors and his deep love of this city.
"His time as a student, at Iffley Road, as a master of a college and in his retirement - it all meant so much to him and he always made it his mission to continue to support Oxford.
"What really surprised us was that people from all over the world have wanted to hear about his life.
"We want to say thank you to everyone for all the love and support and I hope his legacy inspires people to keep trying to do the impossible.
"Let's keep stretching ourselves and be exceptional in our chosen fields."
Continue reading at: oxfordmail.co.uk