Oxford to pay tribute to Sir Roger Bannister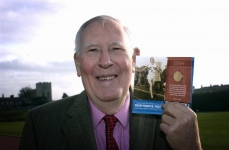 March 03, 2019
The first anniversary of the death of Oxford icon Sir Roger Bannister to be commemorated
By Tom Williams, Oxford Mail
On Monday, March 4, the city will pay tribute to one of its most celebrated heroes, the neurologist who became the first person to conquer the sub-4 minute Mile.
Pembroke College, where Sir Roger became master in 1985, will use the occasion to announce the winner of its Bannister Scholarship.
Worth £1100, this is awarded annually to a student who demonstrates excellent all round performance in both academic & sporting activities.
All those who applied for the scholarship will attend an intimate event at the college with Lady Moyra Bannister, Sir Roger's wife, who will present the winner with a certificate.
Last November, the great and the good of university life gathered in the Sheldonian Theatre in Broad street to celebrate the life of the 88-year-old, who passed away on March 3, 2018.