Perham to host "Gabe Day" event on June 28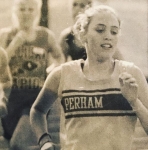 June 26, 2019
"It's a chance for the community to say that we are proud of what she did and honor her family."
By Forum News Service
Gov. Tim Walz presented a proclamation declaring Tuesday, June 25, as "Gabe Day" at a memorial run in honor of 2004 Perham (Minn.) High School graduate Gabriele Grunewald (née Anderson), who died at her home in Minneapolis on June 11, a news release from the governor's office said. Grunewald, 32, was one of the country's top distance runners who was diagnosed with adenoid cystic carcinoma in 2009 during her running career with the Minnesota Gophers. She started to run professionally in 2010.
Tuesday would have been Grunewald's 33rd birthday.
Walz was joined by Lt. Gov. Peggy Flanagan, Minneapolis Mayor Jacob Frey and Gabriele's husband, Justin Grunewald, at 6:30pm at B.F. Nelson Park, 434 NE Main St., Minneapolis.
Grunewald's hometown of Perham will be hosting an event on Friday, June 28 in association with the Summer Block Party, which is headlined by Patrick Murphy and his Nashville Band.
The Perham version of the "Gabe Day" run will begin at 3 p.m. and will consist of a 1.405 mile run/walk in honor of Grunewald. Grunewald's favorite number is 1,405.
It will be followed by a concert from Erin Anderson at 5:30pm which leads into the main show featuring Patrick Murphy and his Nashville Band. The performance will be at 7:30pm and go until 10:00pm at the Arvig Parking Lot.
Perham Cross Country head coach Jeff Morris said they will honor Gabe with the rest of the state. The run will be a kick off to the Summer Block Party, which will be held at the Arvig Parking Lot.
Continue reading at: dl-online.com