Pressure's on When Dad's a Legend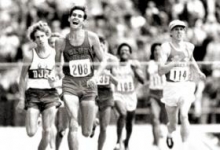 May 28, 2010
By Bob Lutz, The Wichita Eagle
If you want to see what you're made of, try walking in the footsteps of greatness. Better yet, try running in them.
Jim Ryun, Glenn Cunningham and Archie San Romani Sr. are three of America's greatest distance runners, all produced right here in Kansas.
Ryun, from Wichita East, was a three-time Olympian and multi-world record holder. He ran a 3 minute, 58.3 second Mile as a high school senior in the 1965 state high school track & field meet, a ridiculous accomplishment that, 46 years later, hasn't been matched and the only sub-4 at a State meet to-date.
Cunningham, an Elkhart native who nearly lost his legs after being badly burned in a schoolhouse fire when he was 7, later used those scarred legs to set the world record in the Mile (4:06.8) in 1934 and was the 1933 winner of the Sullivan Award, given annually to the country's top amateur athlete.
And San Romani, from Frontenac, was an AAU and NCAA champion in the Mile who finished fourth in the 1500 meters at the 1936 Olympics in Berlin. Like Cunningham, San Romani was badly injured as a child when his right leg was nearly crushed.
Great runners, all, who would go on to have families, with children who were pre-destined to run. It was in their DNA.
Continue reading at: varsitykansas.com