Races You Can Run with Your Dog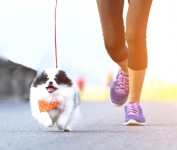 May 04, 2017
Grab your favorite four-legged friend and get ready for a whole new kind of race.
By Sara Angle, SHAPE Magazine
Not all races need to be about getting a new PR—sometimes they can just be about having fun with your best friend. And hey, if that friend happens to have four legs, even better! A growing number of races are catering to people who want to bring their pooch along too, which is no surprise since research shows dog owners are 34 percent more likely than non-owners to get the recommended amount of exercise. Speedier breeds will love the 1-Mile race category, while dogs wanting to test their endurance can stretch their legs in 5Ks or even half marathons.
Before race day, just remember that just like you needed to train for your first race, Fido does too. Check out The Ultimate Guide to Running With Your Dog before you guys hit the pavement.
Continue reading at: www.shape.com