Record-breaking first Great Alaska Mile Series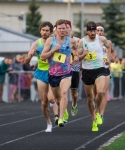 September 27, 2017
"To come up here and have such a great group of guys to experience some of Alaska and to get onto the track and then to try break four, is such a great opportunity for us. We put our hands together for Trevor to make it all happen."
By Karolin Anders, The Northern Light
Trevor Dunbar, Anchorage grown and the first Alaskan to have ever broken 4 minutes in the Mile, created the Great Alaska Mile Series. Even though Dunbar has accomplished every mid-distance runners' dream of running a sub-4 minute Mile, it had never been done on an outdoor track in the 49th state.
His Mile series was set up to change that.
Jack Bolas of Washington, DC is the first person to have ever run the 1,609 meter race under the 4 minute mark in Alaska. Bolas ran 3 minutes, 58.3 seconds during a time trial sponsored by Skinny Raven in The Dome on Friday, Sept. 13, 2013.
Dunbar, a professional runner, was joined by seven of his professional running friends to make history in his home state. Five of the eight competing runners had broken the 4 minute mark before, so their motivation was high to accomplish that again on Alaska's ground. Their first race was held at West High School's track on Wednesday, Sept. 13. The second race was held at Kodiak Island's Baranof Park on Saturday, Sept. 16.
Exactly four years after the first ever sub-4 Mile was run in Alaska, two men broke the magic barrier on an outdoor track for the first time. Despite challenging weather conditions, Kyle Merber of New York won the race in 3:59.36, followed by Ben Blankenship of Oregon (3:59.67) and Colby Alexander of New York (4.00.01).
Continue reading at: thenorthernlight.org