Ricky Faure Lives High, Races Fast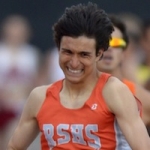 April 22, 2014
Wyoming HS senior clocks 4:09 PR to win Arcadia Invitational Mile
By Marc Bloom for Running Times
Ricky Faure of Rock Springs (Wyo.) High School, currently the nation's leading combined 800m runner and Miler, is looking to run sub-1:50 and 4:05 this spring after launching his season with an Arcadia Invitational Mile victory in California earlier this month. Faure, an 18-year-old senior, travels throughout the West for races. Training and living at 6,500 feet, Faure hopes the altitude boost will continue paying off in sea level races.
Arcadia Title: Despite winning the Arcadia Mile against a national-class field in a PR of 4:09.32 on April 12, Faure (pronounced "four") says the race was less than perfect; he hung back offering little fight for the first three laps. "I was not as focused as I wanted to be," he says. With a lap to go, Faure took off and burned a 59-second last 400m, gritting his way down the stretch. He says he felt capable of 4:05 that day.
Mile Streak: With his second straight Simplot Games 1600m title in Pocatello, Idaho, in February, in 4:10.22, Faure has a string of big race victories to his credit. He is undefeated this year, indoors and outdoors, in the middle distances. Faure's next shot at 4:05 or better could come at an invitational in Utah in May.
Continue reading at: www.runningtimes.com