Roger Bannister 4 minute Mile drama in the works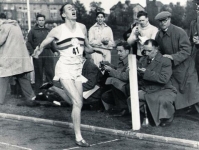 March 17, 2014
A BBC serial about the athlete and scholar's incredible, historic 1954 record run
By Ben Dowell, RadioTimes.com
Scriptwriter Andrew Davies is working on a BBC drama about Roger Bannister's 4 minute Mile record run, RadioTimes.com can reveal.
The writer says that the drama is likely to be in two or three parts and will chart the extraordinary story of Bannister's world record run in 1954.
The drama is due to be made for the BBC by Downton Abbey independent producers Carnival Film and Television and has not yet been cast. It is not yet clear what channel it will air on, though it is likely to be BBC2. The Corporation stressed that the project was just in development and had not yet been formally green lit.
If it does get the go-ahead it is expected to focus on the months leading up to the record, with Bannister determined to run the Mile in under 4 minutes after his disappointing performance in the 1952 Helsinki Olympics.
This spurred him to the record which he eventually broke on May 6, 1954 at Iffley Road Track in Oxford, with a run of 3 min, 59.4 sec.
Bannister's record only lasted 46 days but was extraordinary mainly because he reached it with so little training and while he was practising as a junior doctor.
Continue reading at: www.radiotimes.com